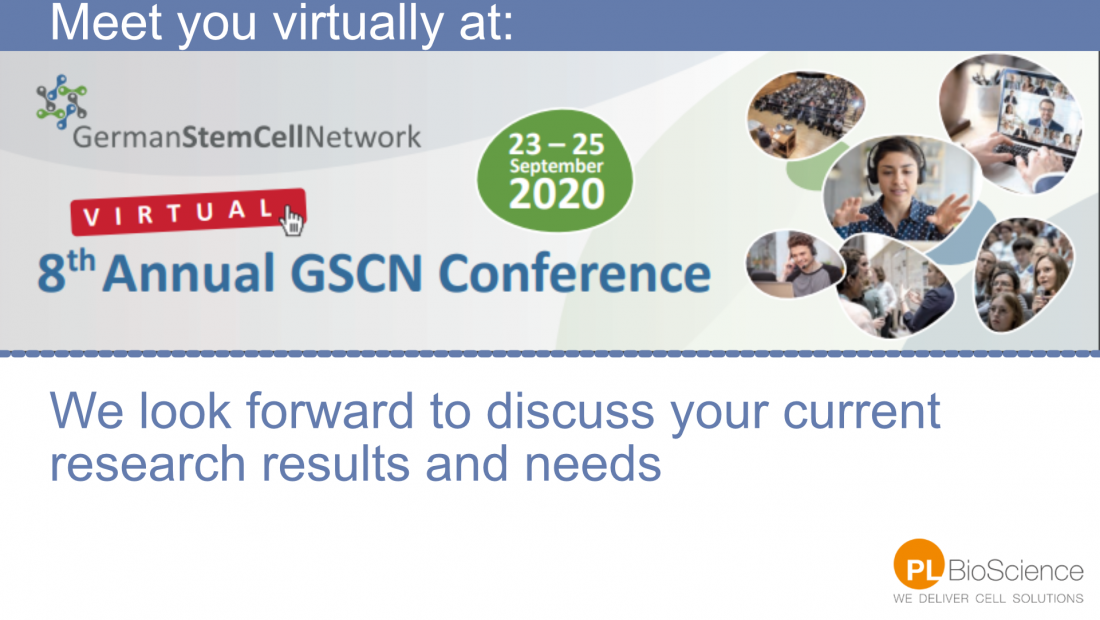 PL BioScience at the GSCN online conference
Meet PL BioScience at the annual GSCN Conference
From 23 to 25 September the annual Conference of the German Stem Cell Network (GSCN) will take place. We will be part of it in the virtual exhibition.
Special times require special actions
Because of the corona safety requirements and the common aim to stay healthy and safe, the conference will be held online this year.
All presentations, meetings, workshops and the industry exhibiton will take place in virtual meetings.
Encouraging the awareness for stem cell research
The German Stem Cell Network encourages the awareness and funding for fundamental and applied stem cell research in Germany.
Because we share the same values as the Network we already take part in the Congress for fifths time. We are proud to be part of their conferences.
Highlighting the advantages of hPL for stem cell research
PL BioScience supports the idea of a cruelty-free future for stem cell research. Therefore we will highlight the importance and advantages of human Platelet Lysate (hPL) for the German stem cell research in the virtual exhibition.
As an animal-free alternative to FBS, the use of hPl not only shows an improvement of cell performances but is also a morally inoffensive culture medium to use.
Will we meet you there?
We are very excited to meet you the first time on a virtual level and discuss your research results and needs.
Have a look at the latest publications about human Platelet Lysate at our website: https://www.pl-bioscience.com/publications/