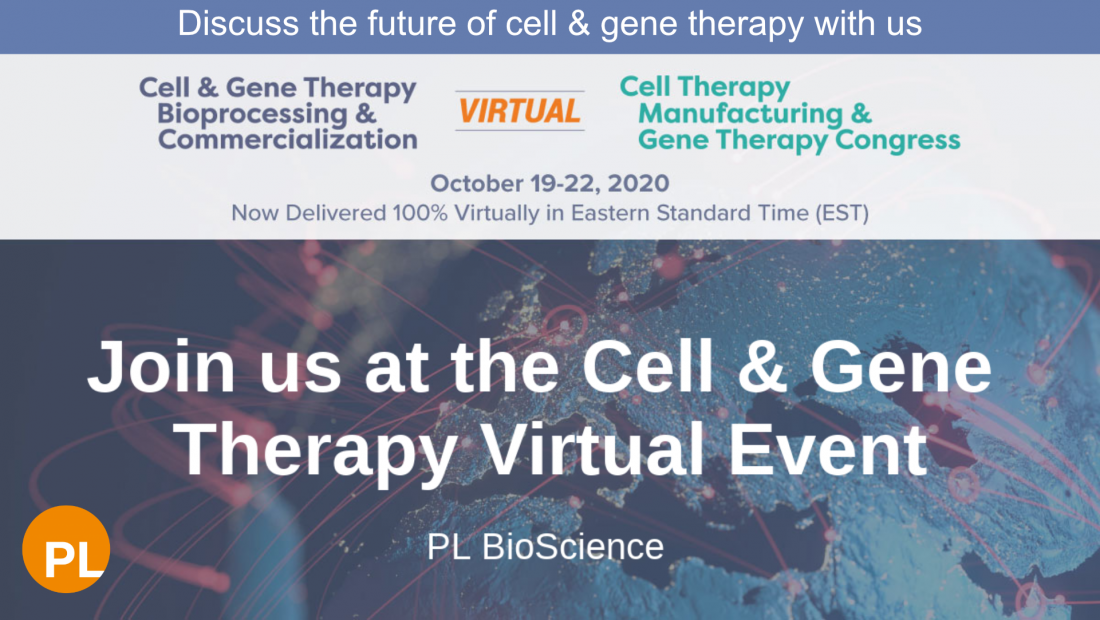 Virtual Event: Cell & Gene Therapy Congress
PL BioScience will be at the virtual Cell Therapy Manufacturing & Gene Therapy Congress 2020
Also this year from October 19  to 22, 2020 we will participate the international congress for Cell & Gene Therapy
The year 2020 is a special year and we are glad to see that the Cell Therapy Manufacturing and Gene Therapy Congress manage to get industry and research together at a virtual event.
What you can expect from the event:
An international community of researchers and industry with leading technology in cell and gene therapy. Everything what you would expect from a face to face event: Workshops, life sessions, discussions, networking events and poster sessions will be held online.
Experience the agenda.
We are excited to see the latest inventions and research results for biotechnology, bioprocessing and manufacturing.
Experience the advantages of human Platelet Lysate (hPL) for your research
We will be online during the events and ready to connect and talk with you about your research results and needs.
At the virtual exhibition you will experience our products (e.g. ELAREM™ Perform) and how they can improve your cell culture results.
Make your life easier with:
Enhanced cell proliferation with less concentrated media
No batch variations
Safe and GMP conform products
Safety first for our climate and health
The opportunity to share our knowledge and products online with a global community, helps us to keep everyone safe in a pandemic situation.
We are aware of our responsibility for the climate. With well organised online events, we are passionate to see how this will influence the future.