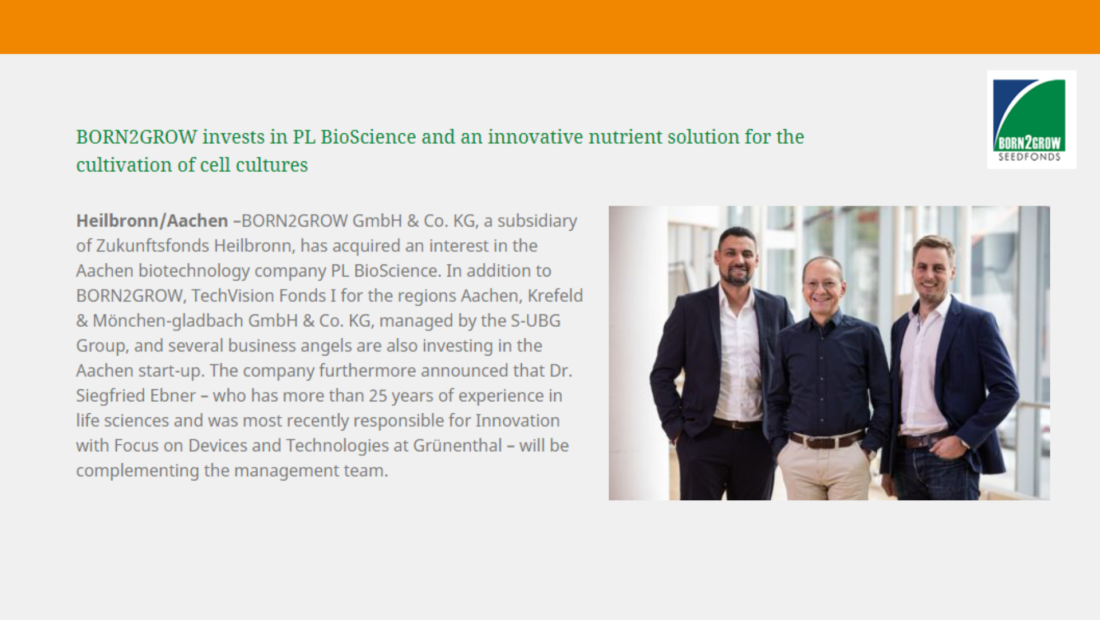 BORN2GROW invests in PL BioScience
It is a pleasure for us to announce that BORN2GROW GmbH & Co. KG, a subsidiary of Zukunftsfonds Heilbronn (ZFHN), invests in our company and technology. Since almost 20 years the ZFHN successfully consults and accompanies start-up technologies and companies.
BORN2GROW is the second investor in our start-up next to TechVision Fonds I.
BORN2GROW: Heilbronn-based and internationally active
As seed fund BORN2GROW concentrates on investing in fast-growing start-ups in advanced technologies such as life sciences and artificial intelligence. Machine learning, internet of things, new materials, hardware and robotics are also part of their focus.
For almost 20 years BORN2GROW has been investing in technology-related start-ups and high-growth companies in Europe, Israel, Asia and the USA as they become ready for the market.
BORN2GROW works with innovative teams
The vision of our investor BORN2GROW and their teams are to develop innovative products for a defined market with a high growth potential.
We are more than content to be one of these team members.
Source: https://born2grow.de/born2grow-invests-in-pl-bioscience-and-an-innovative-nutrient-solution-for-the-cultivation-of-cell-cultures/