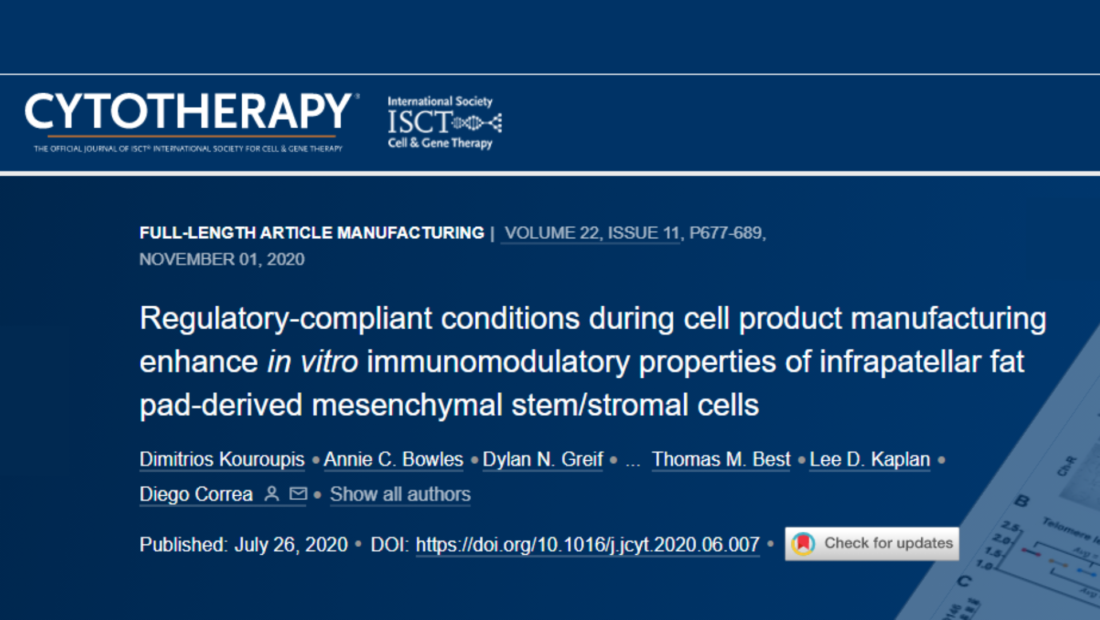 HPL in potential minimally invasive cell therapy
A new publication from Kouroupis et al. published in CYTOTHERAPY in July 2020 found out that infrapatellar fat pad (IFP)-mesenchymal stem cells (MSCs) manufactured with human Platelet Lysate (hPL) show enhanced immunomodulatory properties.
Findings have potential for a minimally invasive cell therapy for joint disease
The authors even conclude that the functionally enhanced cell-based product has the potential to act as a "minimally invasive cell therapy for joint disease through modulation of local immune and inflammatory events".
Modulating inflammatory and fibrotic events
The attention to a therapy with MSCs has increased. Due to their immunomodulatory properties, MSCs have a potential as an alternative for multiple musculoskeletal indications.
The infrapatellar fat pad (IFP) serves as a reservoir of MSCs. This reservoir plays a role in modulating inflammatory and fibrotic events at the IFP and its neighboring tissue.
Comparison of FBS, hPL and chemically reinforced/serum-reduced [Ch-R] formulation
The in vitro immunomodulatory capacity of human-derived infrapatellar fat pad (IFP)-mesenchymal stem cells (MSCs) was interrogated. The IFP-MSCs response to the inflammatory and fibrotic environments is often present in joint diseases.
Therefore the influence of FBS, hPL and Ch-R cell culture was interrogated to enhance cell functionality.
Comply with existing regulatory framework
Beneath the examination of the immunomodulatory properties of the IFP-MSCs, another aim of the study was to comply with the existing regulatory framework. Introducing and sticking to a regulatory complaint protocol is a key factor for stem cell research and regenerative medicine.
Tested cell funtions:
immunophenotype
telomere length
transcriptional and secretory immunomodulatory profiles
functional immunopotency assay
IFP-MSCs manufactured with hPL showed:
distinct morphology of telomere dynamics
distinct phenotypical and molecular profiles
enriched Gene expression of IL-8, CD10 and granulocyte colony-stimulating factor
highly expressed cell surface markers related to the immunomodulatory capacity
enhanced secretion of immunomodulatory and pro-angiogenic factors
more pronounced transcriptional and secretory profiles
The influence of a regulatory-compliant cell culture supplement
It was supposed that to cause a potent immunomodulatory state of MSCs, inflammatory cell priming is necessary.
With the use of hPL as a regulatory compliant cell culture supplement, cell priming can be neglected.
Relevance for the clinic
Successful and reproducible results in cell therapy depend on:
reducing the variability of the manufactured cell products
rely on cell numbers and MCS proliferation without compromising viability
depend on enhanced cell functionality
The study was performed with our ELAREM™ Perform (former named PL Solution)
These are great findings, not only for us but also for the entire stem cell research community and for regenerative medicine.
We are extremely proud to support the research for successful and reproducible results in cell therapy.
Read the abstract of the study here: https://www.isct-cytotherapy.org/article/S1465-3249(20)30782-9/fulltext