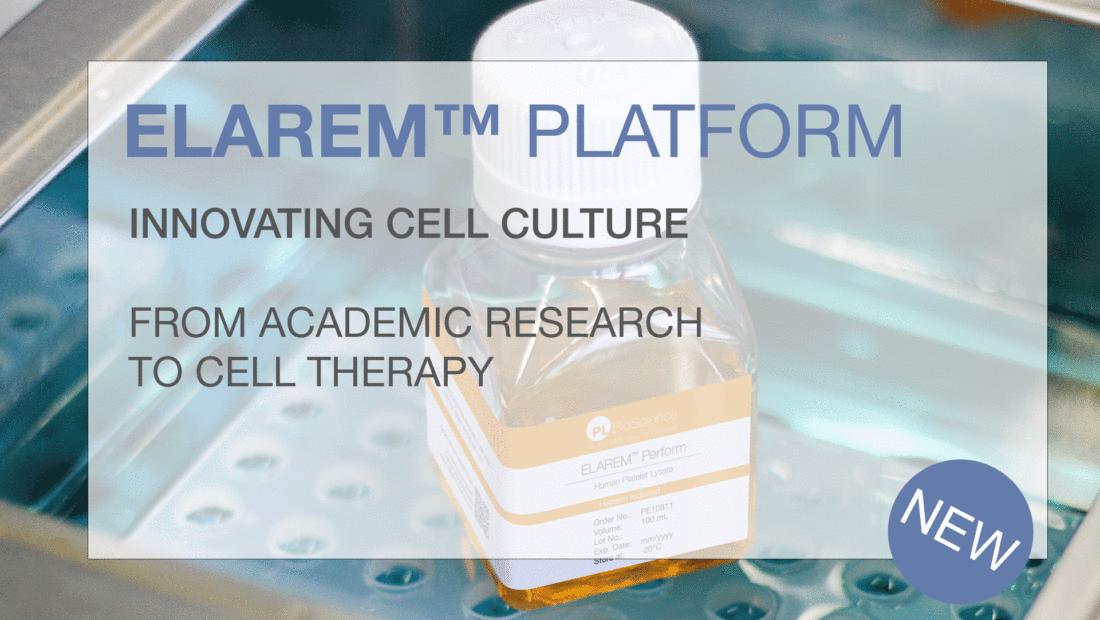 Our baby has a name: ELAREM™
Introducing our new human Platelet Lysate brand name: ELAREM™
As a university spin-off, we started manufacturing our human Platelet Lysates (hPL) back in 2015, as 'PL Solution' products. For more than five years, you may know our human Platelet Lysates under this name.
It is time for a change
Since our start-up is growing and we are emerging from the early business stages, it's time for a change. We think our patented technology deserves a suitable and recognizable brand name: ELAREM™.
From now on, the art name ELAREM™ will be the trademark name uniting all our human Platelet Lysate products.
Our mission: revolutionize cell culture into an animal suffering-free future
If you follow us from day one, you know that our mission is not less than to revolutionize cell culture into an animal suffering-free future.
Not a small aim. But we are about to create the future of all cell expansion applications with our human Platelet Lysate products.
New name and facelift
To achieve this aim, we not only gave our products a new name but also a facelift. With the creation of a complete new product platform named ELAREM™, you will benefit from:
a better overview over the products and application fields
an easier conversion from animal sera, e.g. FBS, to xeno-free hPL
a fitting price and performance level for every application field
One tool: From academic research to cell therapy
Our vision is to enhance the advances in regenerative medicine, from cellular research to cell therapy, with one animal-free cell culture tool.
With ELAREM™, we will continue and improve this objective. You will find a clear structure of our products for three main application fields:
academic research
pre-clinical research
cell therapy
Successive transition
There will be a successive transition to our ELAREM™ product platform. That means, we will update our stock step-by-step, so that you can change from a PL Solution product to the corresponding ELAREM™ product. Beneath, you find product overviews that describe which former products refer to the new ELAREM™ products.
Do you have a question concerning the switch to our ELAREM™ platform? Contact us and we will answer your questions.
Let's create the future of cell expansion together and join us on our mission. We look forward to taking the next steps with you – and with our new ELAREM™ platform.