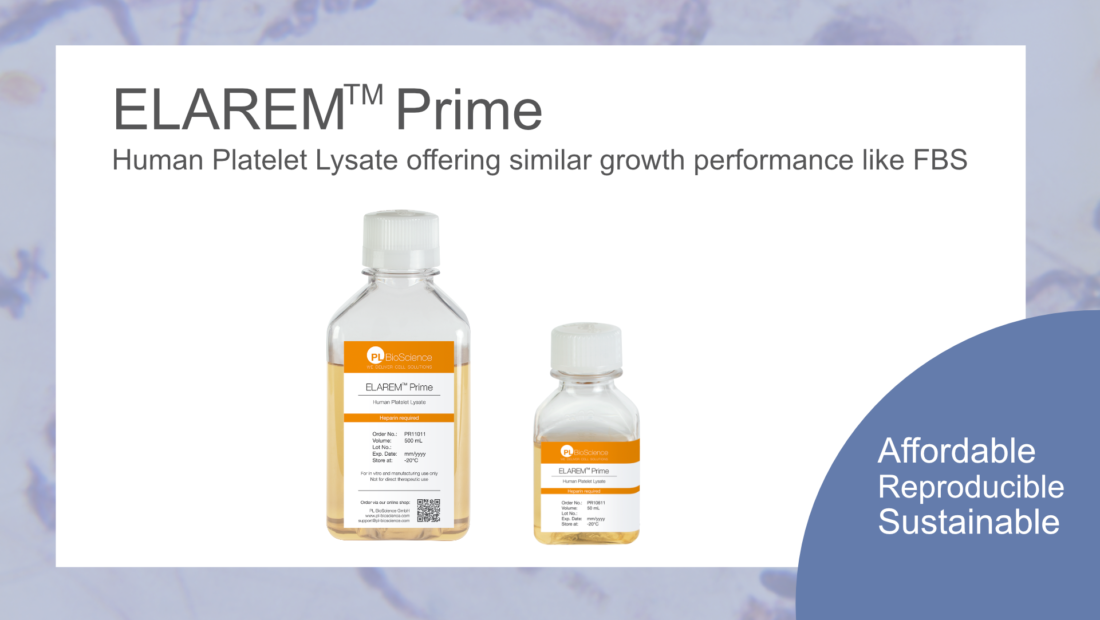 ELAREM™ Prime – affordable, xeno-free HPL
ELAREM™ Prime is the worldwide first affordable cell culture supplement based on human platelets offering the same benefits as FBS – in an animal serum-free environment.
What is ELAREM™ Prime?
It is derived from reused transfusion-approved platelets. These platelets  can no longer be used for blood transfusions, because of the strict storage times. Out of this source we produce cell culture medium. This is a sustainable source independent from the slaughter industry.
Sustainable – Animal free human Platelet Lysate
In contrast to FBS, no animals suffer for the production of human Platelet Lysate.
For the production of Fetal Bovine Serum (FBS) it is necessary to harvest blood from the bovine fetus after the fetus is removed from the slaughtered cow. Not only is this process under heavily ethical concerns, there are also more advantages for cells cultured with HPL.
Affordable – Price stability
With our human Platelet Lysate ELAREM™ Prime, we are not dependent on the slaughter industry. Therefore, we offer a price stable and affordable cell culture medium comparable to FBS.
FBS: a global critical raw material
The industry and academic research in biotechnology, pharmaceutics and diagnostics relies crucially on the cell growth media fetal bovine serum (FBS) . Due to emerging markets (e.g. in China and the Middle East) the demand for FBS increases. But environmental factors like droughts create a lower supply and constraints for the "raw material" (cows). (1)
There is no price stability for FBS
"Growing demand, coupled with a lower supply has resulted in a volatile market for US FBS and consequently, prices have increased over 300% in the past few years. "(1)
Reproducible – Lot-to-lot consistency
ELAREM™ Prime is manufactured from pooled platelet units under sterile conditions. The lot-to-lot consistency ensures reproducible results without the FBS-related need for batch testing. This makes it possible for you to order only a certain amount of ELAREM Prime and not a yearly amount. You safe time, money and storage space.
ELAREM™ Prime supports in vitro cell expansion from academic research to industrial manufacturing and in vitro diagnostics. The growth factor-composition enhances propagation and maintenance of various cell types and lines.
3 Good reasons for using hPL instead of FBS
FBS has become the 'Gold Standard' in the field of cell cultivation – our industry continues to rely heavily on FBS. But FBS prices rise and fluctuate depending on external factors. Experts expect a soon mismatch between supply and demand. As a result, the demand for xeno-free cell culture products is increasing.
Therefore, we developed the first worldwide unique xeno-free cell growth promoter offered at an affordable and stable price.
ELAREM™ Prime provides consistent test results without the need of batch testing.
The cellular growth performance is comparable to FBS-supplemented cell cultures.
Human Platelet Lysate is free from ethical concerns and provided by a sustainable production source.
Consequently, ELAREM™ Prime enables a simple and price attractive switch to animal serum-free cell culture conditions.
Similar growth performance of hASC when cultured in ELAREM™ Prime compared to FBS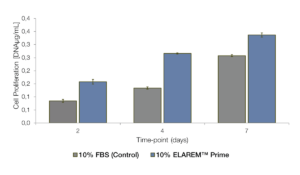 Frequently asked questions about ELAREM™ Prime
How long can ELAREM™ Prime be stored
?
ELAREM™ Prime products are stable until the expiry date stated on the label. ELAREM™ Prime is most stable when stored frozen at -20°C or below until use.
Upon thawing, it is recommended to aliquot and refreeze samples of unused ELAREM™ Prime at -20°C. Repeated freeze-thaw cycles of ELAREM™ Prime should be avoided.
Is ELAREM™ Prime sterile?
ELAREM™ Prime is aseptically processed. Microbial cultures tested negative. Quality control testing is carried out in a certified test laboratory.
Are the products traceable and what are the precautions?
ELAREM™ Prime is manufactured from platelet units obtained from healthy donors at EMA-licensed blood centres. Blood donors have been qualified according to current EU
guidelines for donor eligibility criteria.
What is the intended use of ELAREM™ Prime
?
ELAREM™ Prime is for in vitro experimental and research use only (RUO) and the product is not intended for direct human or animal uses.
For safety precautions, please see the appropriate SDS.
Do I need to add anticoagulants to ELAREM™ Prime? 
The product formulation of ELAREM™ Prime contains coagulation factors. To inhibit coagulation of the complete cell culture medium, we recommend to add anticoagulants.
Source: (1) https://www.rmbio.com/fetal-bovine-serum-supply-and-demand-for-us-fbs