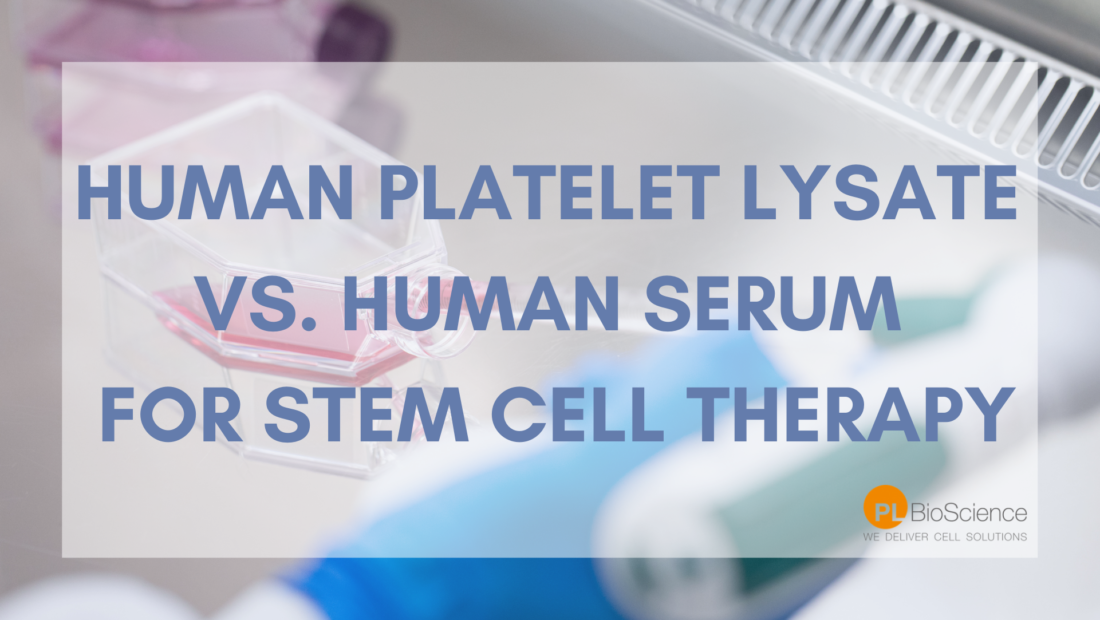 Human Platelet Lysate vs. Human Serum
Why Human Platelet Lysate outperforms Human Serum for Stem Cell Therapy
"Which media should I choose for my application?" – There is no short answer because it depends on the application aim of the cell therapy, the production process and sometimes on the cell types and origin (collection, selection, genetic modification). But for developing cell therapies for human application, it should be mentioned that human origin (xeno-free) cell culture media are the right choice. Materials that are close to biological­ly equivalent are critical to reproduce the in vivo environment and achieve more reliable outcomes. In addition to that, using a xeno-free cell culture medium is linked to a higher biosafety and the elimination of ethical concerns. (15)
Concerning the standardization, cell culture proliferation (especially for stem cells) and the lot-to-lot consistency, Human Platelet Lysate outperforms Human Serum.
Cell expansion is a huge part of vaccine development, cancer and HIV research as well as other disease-related research fields where there is no cure so far (e. g. diabetes or wound management).
Stem cell treatments are a novel approach to treat diseases like diabetes, cancer or wounds in order to promote the regeneration of the patient's own cells and tissues. The stem cell approaches using MSCs have been demonstrated for several autoimmune disorders showing promising results.
At the moment, there are about 300 active studies using MSCs for the development of stem cell therapies in the areas of regenerative medicine, diabetes and cancer research. (14)
For all these research and therapy approaches, cell expansion and, thus, a cell culture medium is used and needed. Human Platelet Lysate (HPL) and Human Serum (HS) are examples of xeno-free replacements to animal sera.
But first, we want to deal with a misunderstanding: Human Platelet Lysate is no Serum!
There is a difference in the production process, composition and cell culture proliferation results.
We have a closer look and compare the advantages and disadvantages of Human Serum to Human Platelet Lysate for the development of stem cell therapies.
What are the requirements for cell culture medium in stem cell therapies?
Ensure consistent and reproducible results (10)
Maintain chain of custody throughout the process lifecycle (10)
Future standards: viral inactivation (10)
The origin of the substances must be known (10)
A risk assessment must be done (10)
All materials should be produced within a suitable quality management system and production facilities (10)
A high amount of stem cells can be expanded and generated (106-107) for the application in humans (14)
"Successful and reproducible clinical outcomes in cell-based therapy largely depend on reducing the variability of the manufactured cellular product under regulatory-compliant practices. Based on this, efforts have been centered around the generation of clinically relevant cell numbers under specific conditions that support MSC proliferation without compromising viability while also preserving and/or enhancing their functional attributes." (12 )
Human Serum
Human Serum is a product of the blood donation process. In the human body this liquid is needed to transport exogenous and endogenous liquids in the blood. Fatty acids as well as hormones are transported in this liquid carrier.
Human Serum is only the fluid and solute component of blood without clotting factors. It is produced from whole blood or plasma. Therefore, there are different types of Human Serum available. Mostly, Plasma-derived and Off-the-Clot Serum is produced and used. Plasma-derived Serum has few donors per batch, needs chemical additives and has a low biological relevance (shown to have less statistical relevance in studies). (6,7)
Off-the-Clot Serum is produced from whole blood and more donors than the plasma-derived one. The whole blood is allowed to clot and the serum is extracted from the resulting fractionation.
In Human Serum production, the components containing the most growth factors in the blood, human platelets, are removed.
This is the reason why Human Serum is less effective in cell proliferation than Human Platelet Lysate. (3)
"[…]few studies have reported that human serum improved cell growth, and on the other hand, some studies showed that it suppressed cell growth [33]." (3)
Human Platelet Lysate
Human Platelet Lysate (HPL) is also a product of human blood donations. For the production of Human Platelet Lysate, thrombocyte concentrates are needed.  HPL needs to be produced in a more complex way than Human Serum– by freeze and thaw cycles, human thrombocytes are forced to break up (lysed).
This is done to extract the immense amount of growth factors and chemokines in the platelets. Because of this, the growth factor concentration in Human Platelet Lysate is higher than in Human Serum.
"We demonstrate that human platelet lysate (hPL) can replace hS in macrophage cultivation and appears to be the best option for co-cultivation of human macrophages with hMSCs." (2)

There are different types of Human Platelet Lysate, such as non-fibrinogen-depleted, fibrinogen-depleted or Virus-inactivated (by gamma-irradiation).
It is distinguished between EU and US origin Human Platelet Lysate which refers to the origin of the donations. In general, the thrombocyte donations are obtained from healthy blood donors at licensed blood centers.  A Certificate of Analysis and a Safety Data Sheet are available.
If you want to know more about our quality and safety standards: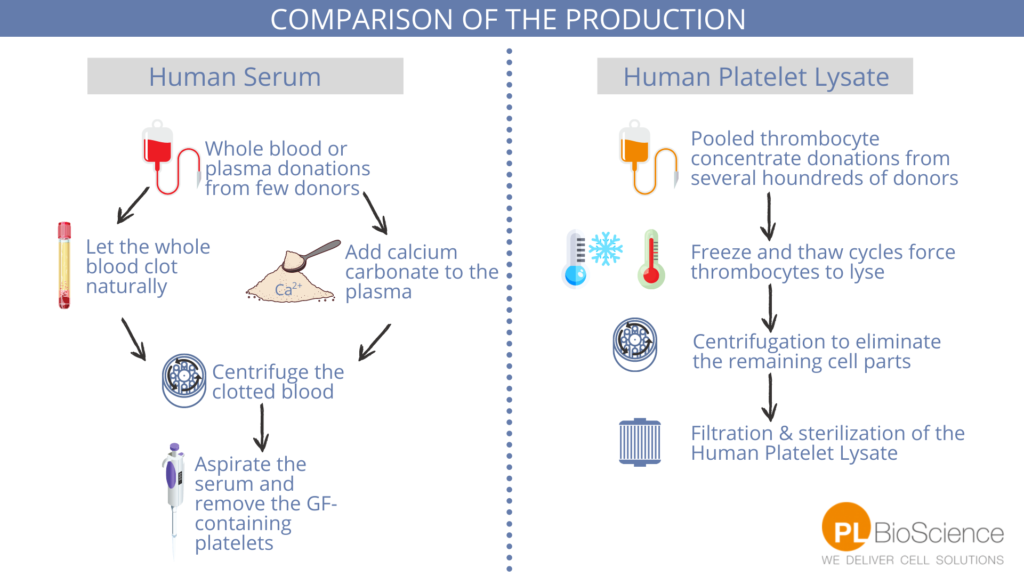 GF: Growth factors
What is the difference between Human Serum and Human Platelet Lysate?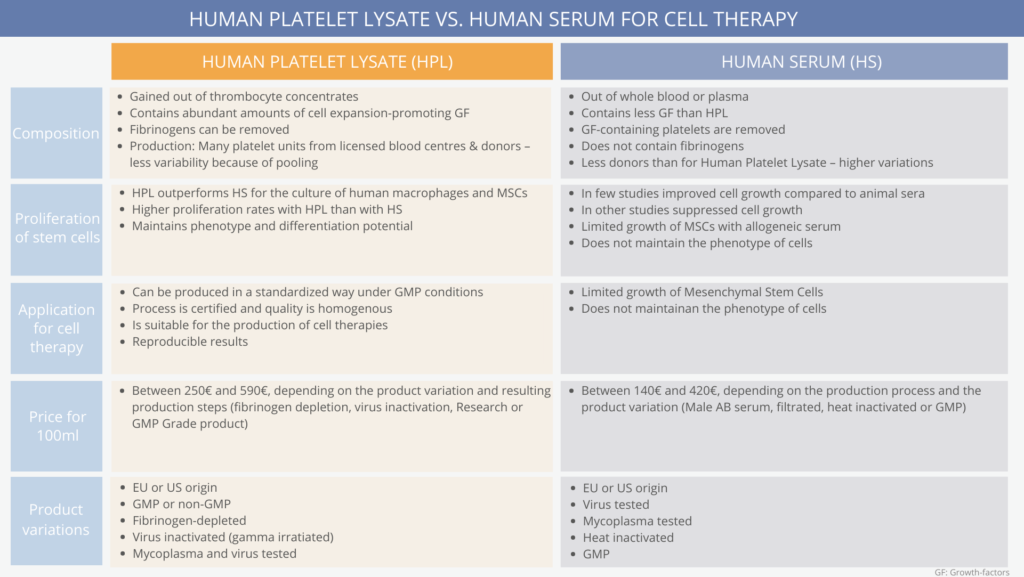 Why using Human Platelet Lysate for clinical application and clinical trials?
Homogenous and standardized production process
Consistent quality
Lot-to-lot consistency
Stable and controlled process with homogenous quality
Contains abundant growth factors and cytokines
Stimulates cellular proliferation – accelerates expansion cycles of cells
Maintains phenotype and differentiation potential
ELAREM™ Human Platelet Lysates have been successfully used in several studies for wound management, diabetes or tissue engineering. It was shown that Human Platelet Lysate can replace Human Serum for the cell cultivation because it promotes proliferation and maintains the phenotype. (2)
Choosing a standardized, safe and lot-to-lot stable cell culture medium
For the development of a cell therapy, it is important to keep in mind that a standardized, quality assuring and lot-to-lot stable product is the right choice. Herewith, regulatory and production processes can be optimized. In addition to this, the cell proliferation should be suitable for the desired application and the cells should maintain their phenotype and differentiation potential.
Human Serum and Human Platelet Lysate both derive from a biological raw material. Nevertheless, concerning the standardization, cell culture proliferation (especially for stem cells) and the lot-to-lot consistency, Human Platelet Lysate outperforms Human Serum.
ELAREM™ Human Platelet Lysates
Sources:
"Comparison of human platelet lysate alternatives using expired and freshly isolated platelet concentrates for adipose-derived stromal cell expansion", Dessels C., Durandt C., Pepper M.S., March (2018), Platelets Vol.30, Internet: https://www.tandfonline.com/doi/full/10.1080/09537104.2018.1445840 (28.10.21)
"Platelet lysate outperforms FCS and human serum for co-culture of primary human macrophages and hMSCs", Tylek T., Schilling T., Scheleglmilch K., March 2019, Scientific Reports 9, article number: 3533, Internet: https://www.nature.com/articles/s41598-019-40190-9 (28.10.21)
"Differences between the Proliferative Effects of Human Platelet Lysate and Fetal Bovine Serum on Human Adipose-Derived Stem Cell" Kakudo N., Morimoto N., Ma Y., 2019, Cells: doi: 10.3390, PMC6829610, Internet: https://www.ncbi.nlm.nih.gov/pmc/articles/PMC6829610/ (28.10.21)
https://www.bio-sell.de/zellkultur/human-serum.html (last visited 28.10.21)
https://www.sigmaaldrich.com/DE/de/product/sigma/h4522?gclid=EAIaIQobChMI6pKFpNzT8wIVg7HtCh2v7AxBEAAYASAAEgIYjvD_BwE (last visited 28.10.21)
https://www.pan-biotech.de/human-serum-type-ab-sterile-filtered.html (last visited 28.10.21)
https://www.sigmaaldrich.com/DE/de/substance/pltmaxhumanplateletlysate1234598765?context=product (last visited 28.10.21)
https://www.pl-bioscience.com/products/elarem-ultimate-fdi-gmp-grade/ (last visited 28.10.21)
"The state of food and agriculture – overcoming water challenges in agriculture", OECD FAO Agriculture Outlook 2020, ISSN 0081-4539 [PRINT], E-ISSN 1564-3352 [ONLINE], ISBN 978-92-5-133441-6
European Pharmacopoeia 9.0 5.2.12. Raw materials for production of cell-based/gene therapy products, 01:2017:50212
"Gaps in the knowledge of human platelet lysate as a cell culture supplement for cell therapy: a joint publication from the AABB and the International Society for Cell & Gene Therapy", Bieback K., Fernandez-Munoz B., Pati S., 2019, Transfusion, Internet:https://onlinelibrary.wiley.com/doi/full/10.1111/trf.15483 (28.10.21)
"Regulatory-compliant conditions during cell product manufacturing enhance in vitro immunomodulatory properties of infrapatellar fat pad-derived mesenchymal stem/stromal cells."
Kouroupis D, Bowles AC, Greif DN, et al. (2020). Cytotherapy.
clinicaltrials.gov
"Is human platelet lysate (hPL) the ideal candidate to substitute the foetal bovine serum for cell‑therapy translational research?", Guiotto M., Riehle M.O., Raffoul W., 2021, Journal of Translational Medicine, Article number: 426, https://translational-medicine.biomedcentral.com/articles/10.1186/s12967-021-03104-w