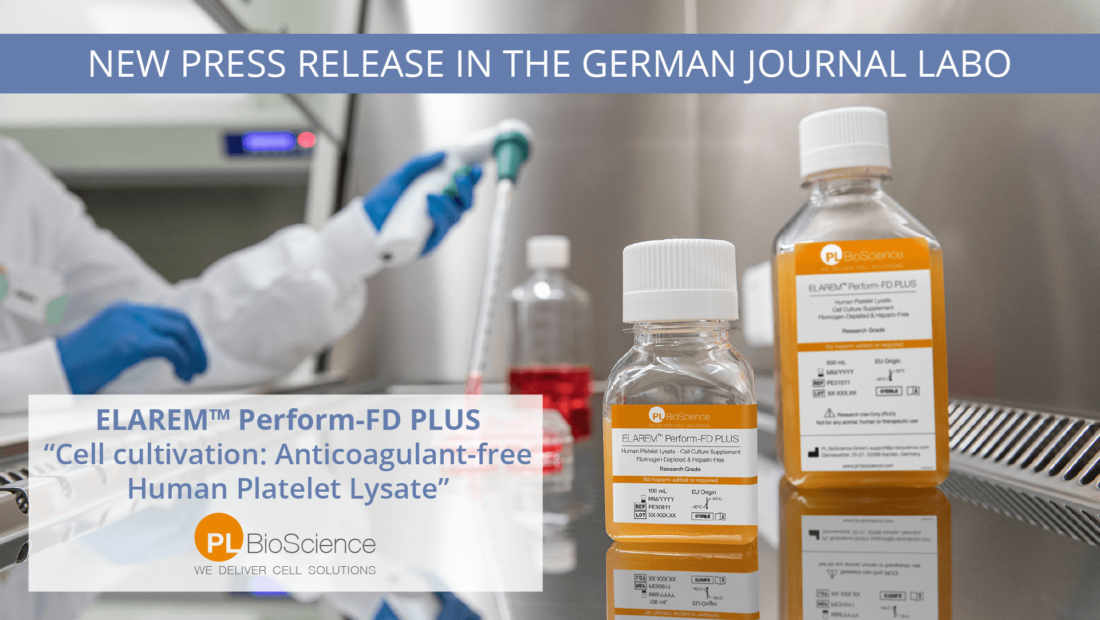 ELAREM™ Perform-FD PLUS in the media
"Cell cultivation: Anticoagulant-free Human Platelet Lysate"
About LABO Journal
LABO, a German journal for laboratory technology, introduced our new product ELAREM™ Perform-FD PLUS in the article: "Cell cultivation: Anticoagulant-free Human Platelet Lysate". The LABO journal is specialized in scientific news, inventions and updates concerning the daily lab routine. So, the newest addition to our Human Platelet Lysate portfolio matched the journal's key topics very well.
Anticoagulant-free Product for optimal Usability
The journal summarized the product characteristics of our anticoagulant-free Human Platelet Lysate. The article emphasised the user benefits as follows: ELAREM™ Perform-FD PLUS enables a flexible and efficient use for in vitro expansion of various cells. Moreover, the anticoagulant-free product is applicable in different development stages. Due to the absence of anticoagulants, ELAREM™ Perform-FD PLUS is ready-to-use which simplifies daily lab routines: We do not add any anticoagulants during manufacturing. Neither the users need to add anticoagulants to the final cell culture medium.
In this context, also our CEO Hatim Hemeda was cited: "There are studies that reveal a negative effect of heparin on cell growth in some cases. With our new process, we can produce a culture medium with even better quality. Consequently, we can offer our customers the best conditions for efficient and safe cell growth."
The Importance of Traceability
Finally, the article focused on the highly important aspect of product traceability. For the production of our anticoagulant-free ELAREM™ Perform-FD PLUS, we source platelet units from the EU. As a result, we ensure a 30-year traceability of the raw material. Traceability systems are crucial in order to supervise product quality throughout the entire product life cycle. That finally secures product safety.
Outlook
In the next step, we plan to bring a GMP version of the product to market. This is especially important for (commercial) cell production in accordance with GMP guidelines.
Read the whole article (in German) here: https://www.labo.de/life-sciences/humanes-plaettchenlysat-ohne-heparin.htm