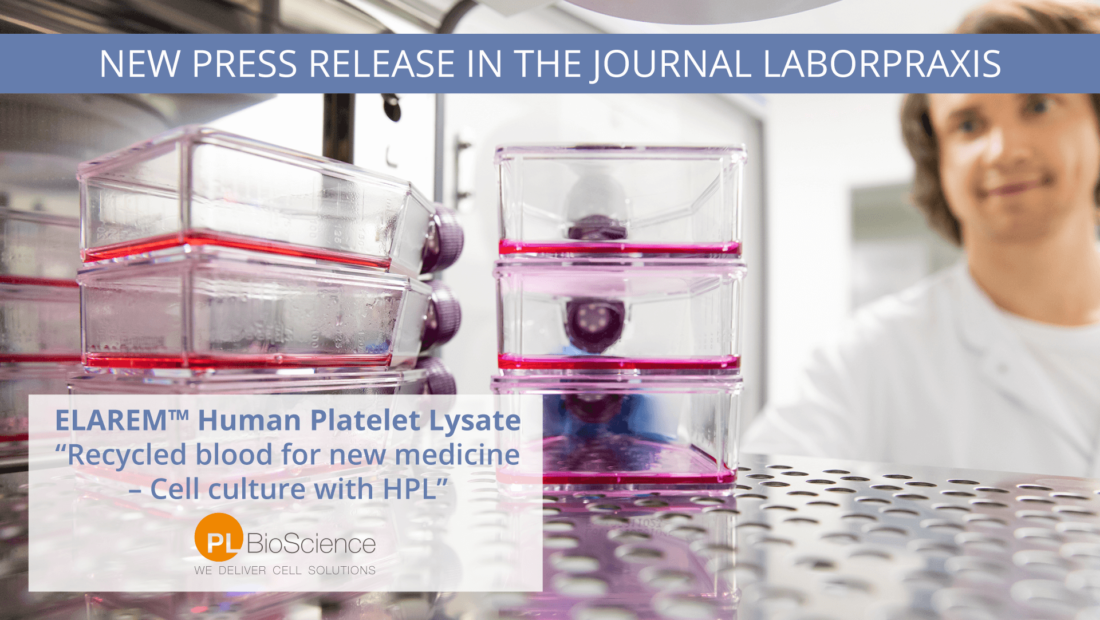 ELAREM™ Human Platelet Lysate for new medicine
"Cell culture with Human Platelet Lysate – Recycled blood for new medicine"
Regenerative medicine is developing rapidly. And cell cultivation plays a crucial role for the development, especially in stem cell therapy. Therefore, the demand for safe cell culture media is increasing – as a basis for the development of new therapies. Consequently, Human Platelet Lysate is an optimal solution for new medicine development.
Our CEO Dr. Hatim Hemeda recently shared a guest article in the journal Laborpraxis. We summarized the article focusing on Human Platelet Lysate for new medicine.
Laborpraxis is a German journal specialized in laboratory, analytics and life science topics. Since more than 45 years, the journal supports decision makers and users in chemical, physical, analytical and biotechnological laboratories. So, Laborjournal provides insights into the daily lab routine.
Recently, the journal published a guest article by our CEO Dr. Hatim Hemeda. The article gives insights into ELAREM™ Human Platelet Lysate, its application and use cases. The focus lies on the important role of human cell culture media for the development of cell therapies.
Human Platelet Lysate for new medicine
The closer laboratory conditions are to those in the original cell organism, the more successful a cell culture will be. Therefore, the need of human rather than animal culture media is increasing. The medium source is especially relevant for the development of regenerative therapies using human stem cells.
In addition to optimal cell culture conditions, human culture media also provide the necessary safety. This means that the cultured cells are GMP conform and suitable for the treatment of patients.
Importance of translatability
Due to the rapid development of new therapies, the translatability of research results into therapy is increasingly important. As a result, cell culture laboratories should think about tomorrow when developing their protocols. A forward-looking choice of cell culture media prevents researchers from protocol changes. Especially when it comes to the design of clinical studies.
Human Platelet Lysate supports the cultivation of human stem cells particularly well. Firstly, the human starting material is transfusion-approved. Secondly, the starting material enables a seamless transfer process from research to therapy: The use of Human Platelet Lysate means that both cells and medium are of human origin. Thus, cell cultivation is possible with only one medium – from basic research to stem cell therapy.
Human Platelet Lysate as proven solution
Human Platelet Lysate is a scientifically proven cell culture supplement. It has already proven its potential from basic research, the proof of concept, to clinical applications such as stem cell therapy. The applications are broad and include a variety of human and animal primary cells as well as cell lines.
Find our product references here: https://www.pl-bioscience.com/publications/