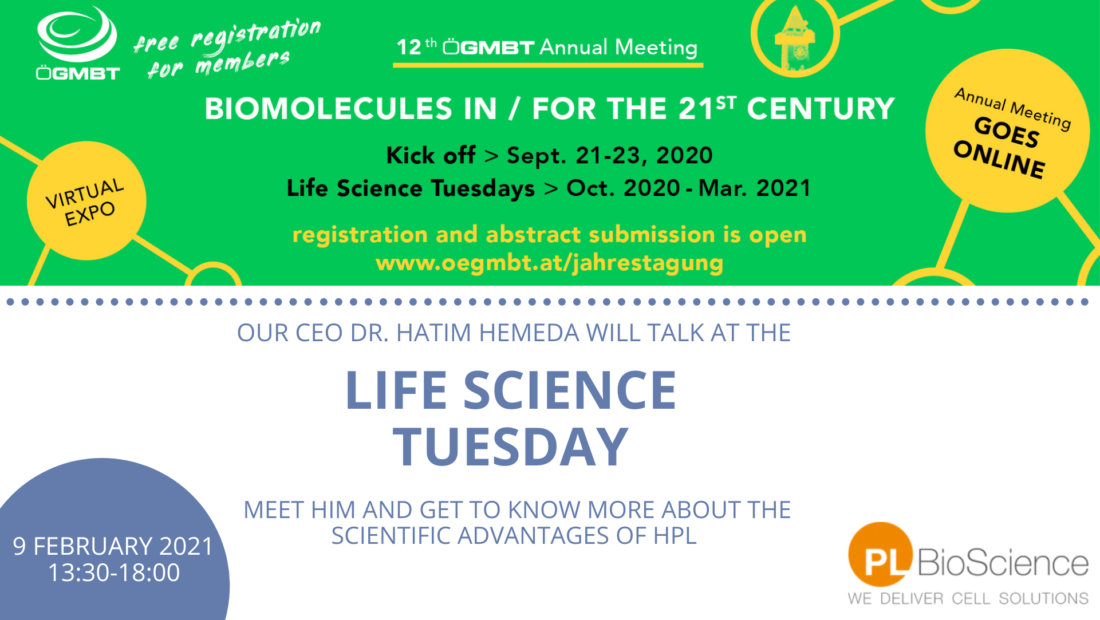 Talk & Live Q&A with our CEO about HPL
TALK & LIVE Q&A with our CEO Dr. Hatim Hemeda
On 9 February 2021, between 13:30-18:00, we will be at the Life Science Tuesday from the ÖGMBT – Austrian Association of Molecular Life Sciences and Biotechnology in a session about tissue engineering and regenerative medicine.
This Life Science Tuesday is one of 12 sessions taking place from October 2020 to March 2021 in a virtual meeting room to immerse into a specific scientific topic. It is dedicated to experts, insiders and those who want to extend their knowledge.
Our CEO Hatim will talk about the relevance and advantages of Human Platelet Lysate (HPL) in tissue engineering and regenerative medicine.
During the introduction of the working group "Cell Based Assays, Therapies and Products", you will have the opportunity to meet Hatim in a live Q&A  and ask all your questions about HPL.
As a new member of the ÖGMBT, we really appreciate this enthusiastic planning and organizing of the online sessions. Thank you in advance!
Don't miss this online event. We look forward to meeting you in a virtual Zoom room.
You find more information about participating and the other sessions here: https://www.oegmbt.at/jahrestagung/life-science-tuesdays
If you want to have an inside in Human Platelet Lysate before the session, take a closer look at our technology site: ELAREM™ Technology