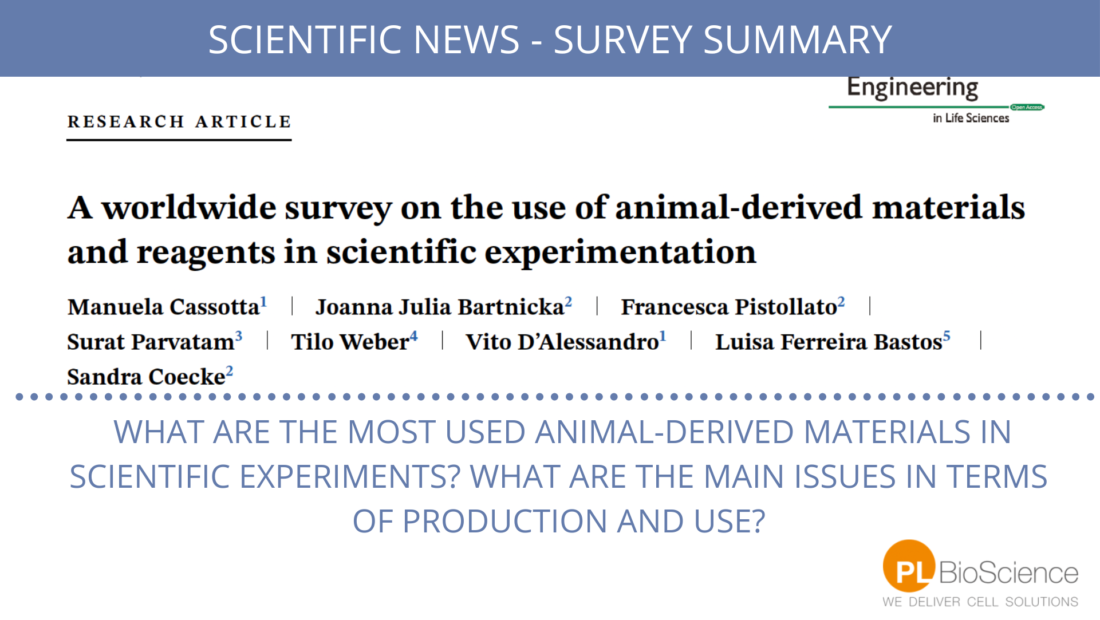 Survey: Animal-derived materials in science
What are the most used animal-derived materials in scientific experiments? What are the main issues in terms of production and use?
These were the two main questions that Cassotta et al. attempted to answer in their publication about "A worldwide survey on the use of animal-derived materials and reagents in scientific experimentation".
For that reason, they conducted a worldwide survey with 551 participants. The aim: give a picture of the current status of animal-derived ancillary materials in science. In addition, the authors aimed to identify weaknesses hampering the implementation of non-animal-derived alternatives.
Moreover, they wanted to map the knowledge base on alternatives and animal products. So, the authors spotted which educational and information sources and materials could be helpful to increase the knowledge base.
The survey mostly represents the academic environment
Scientists with different research backgrounds participated in the survey. They worked with in-vitro, in-vivo or in silico methods, in academia, pharmaceutical companies or the cosmetic industry.
The countries with the highest attendance were India, Germany, Italy, UK and Spain. About 60% of the participants were from the academic field or academic institutions. Mostly PhD students, researchers, senior scientists and scientists.
Even if the participation of pharmaceutical companies was not high, the level of knowledge about animal alternatives and use was high in these institutions.
Urgent scientific need to replace animal-derived reagents and materials
The authors made clear that there is an urgent need to replace animal-derived material due to many reasons. Apart from scientific benefits, ethical research is an important topic for the survey participants.
So, here we summarize the main issues and concerns regarding animal-derived materials as stated by the participants:
Batch-to-batch variability and low reproducibility (57%)
Ethical concerns (51%)
Interspecies differences (41%)
Presence of undefined components (38%)
Risk of pathogen contamination (26%)
Risk of material cross contamination (15%)
Reproducibility is by far the biggest problem of the scientific community to replicate the results of published research.
Note: Participants were allowed to give more than one answer. That is why there is more than 100% possible.
Why is it still popular to use animal-derived materials and reagents?
Even though non-animal materials and reagents, such as human cells, alternatives to animal sera or non-animal recombinant antibodies are becoming more available, there is still a large amount of animal-derived materials used.
According to the survey results, a lack of awareness was the most prominent reason (33%) for not considering animal-free alternatives.
Other reasons were:
Preference towards existing protocols in the lab (31%)
High costs and lack of funding (21%)
Believing that animal-derived materials were irreplaceable (20%)
Lack of sufficient information (18%)
Lack of knowledge where to buy non-animal derived materials (16%)
Lack of decision-making power by participants (14%)
Increasing reproducibility and ethics
Most of the participants thought that advantages of animal-free reagents are increased reproducibility and ethics. Yet, a high amount rated their knowledge about alternatives as low.
Almost half of the participants once considered the use on an animal-free alternative for serum. 40% of the participants said they are choosing non-animal reagents due to personal reasons.
Increased awareness for animal-free alternatives
What must be done in order to raise awareness for animal-free alternatives? A great question that was addressed in the survey. And it turned out to be one of the key factors to change.
Because of this, the authors summarized their proposals with initiatives that can be taken, such as:
Increase and improve lectures in universities (talk about cell culture and animal-free alternatives in biopharmaceuticals)
Journals could ask for alternative solutions in the comments/reviews before publishing

"ALTEX recommends the substitution of all materials that are obtained or derived from animals subjected to pain or suffering. (…) we require authors to discuss this issue, preferably in the Discussion section, and indicate whether such materials could/shall be replaced in future studies."

Enlarge the level of activities planned around this topic through online seminars, webinars, lectures, e.g. from societies like EURL-ECVAM, Deutscher Tierschutzbund e.V or NC3Rs
Increase the funding for animal-free research projects: a criterium for rewarding the funding (already done by some societies)
Improve the access to animal-free materials
Give more/better recommendations about usage and protocols from suppliers (also include all necessary additives)
Results and comparison of PL BioScience's survey about FBS
In summer 2021, we at PL BioScience took a survey about the use of Fetal Bovine Serum (FBS) and the knowledge of Human Platelet Lysate and other alternatives. Within the survey, 98 participants from all over the world, mostly USA and Europe, shared their experiences on FBS usage and the usage of FBS alternatives. 37% of the participants worked in an academic area followed by 36% working in the industry. A huge part of the attendees worked as a PhD student, research assistant or postdoc.
In total 90% of the participants currently worked or did work with FBS in the past. Comparing the results of the published survey by Cassotta et al. with our small-scale survey about FBS, the answers show some similar trends.
Similar trends for knowledge base and sources for information
For example, 33% of the attendees stated that a lack of reproducibility was the biggest problem with FBS. 25% chose the inconsistency between batches and 24% the supply shortage as main problem (Picture 1).
There is also a parallel with view to ethical concerns. Like in the present publication by Cassotta et al., 68% of our FBS-survey attendees see ethical issues in using FBS (Picture 2).
Picture 1: Which challenges do you face when using FBS?;Picture 2: Do you see an ethical issue with the use of FBS?
More than half of the participants once tried or considered using Human Platelet Lysate as a xeno-free alternative to FBS.
When choosing a cell culture supplement, the three most important things for the participants were
performance,
price stability
and supply security/availability.
The source for information about animal-free alternatives complies with the results of the published survey by Cassotta et al. Mostly, the participants would look for information in Journals, papers, online searches, events & conferences but also social media.
Sources: Cassotta M, Bartnicka JJ, Pistollato F, et al. A worldwide survey on the use of animal-derived materials and reagents in scientific experimentation. Eng Life Sci. 2022;1–20. https://doi.org/10.1002/elsc.202100167
What you should now about the 3R Principle – what it all has to do with the 3Rs?