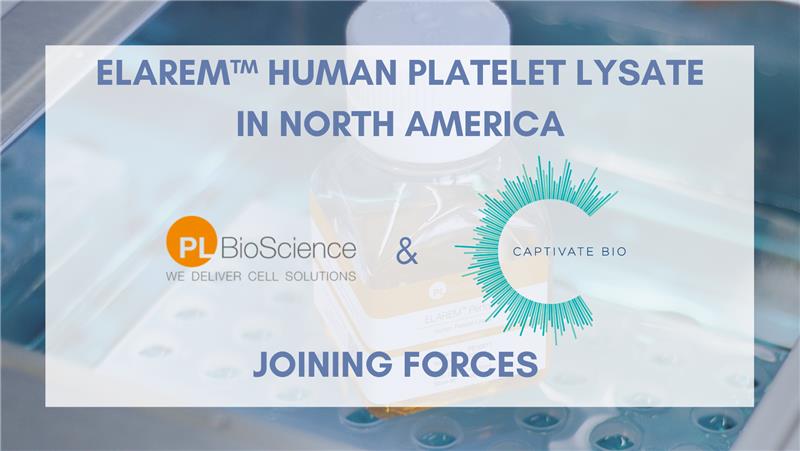 ELAREM™ Human Platelet Lysate in North America
'Accelerating research and discovery' – Human Platelet Lysate in North America
'Accelerating research and discovery'. The mission of the team at Captivate Bio perfectly fits our mission: Providing one solution for all development stages – Human Platelet Lysate. From the beginning, we saw strong synergies between our companies. Above all, we both share one aspiration: Supporting our customers from cell research to cell therapy with reliable solutions. These synergies recently resulted in a distribution agreement. Accordingly, Captivate Bio is our partner to supply our Human Platelet Lysate in North America.
Joining forces with a strong partner
Captivate Bio is a scientific cell culture solutions provider located in Massachusetts (USA). The partnership agreement will enable Captivate Bio to broaden its current portfolio of Human Platelet Lysate (HPL). For this purpose, the distribution expert will supply all ELAREM™ Human Platelet Lysate product lines for sale in the US and Canada. Meanwhile, PL BioScience enters new markets and is able to supply its Human Platelet Lysates in North America.
Dr. Hatim Hemeda, co-founder and CEO at PL BioScience summarizes: "We at PL BioScience highly value Captivate Bio's experience in the distribution of cell culture media. That is why we look forward to joining forces across North America. Above all, it is great to have found an engaged partner with whom we share a mission: Supporting innovative scientists in regenerative medicine."
Increasing need: Human Platelet Lysate for cell manufacturing
Also Tanya Potcova, Captivate Bio's co-founder and CEO, looks forward to the collaboration: "From day one, we felt we were a great fit together as partners. Both companies bring complementary strengths and innovative products to benefit our customers. With the increasing use of platelet lysate in cell manufacturing, having a great supplier network behind you is critical. So, it is the basis to success in accelerating research and discovery."
About Captivate Bio
Captivate Bio is a privately held scientific solutions provider. The team specializes in the commercialization of high-quality cell culture media service. With its cell culture solutions, the women-led company addresses the research, therapeutic, and healthcare communities.
For more information, visit www.captivatebio.com.
Read the Press Release: Captivate-Bio-PL-BioScience-Press-Release