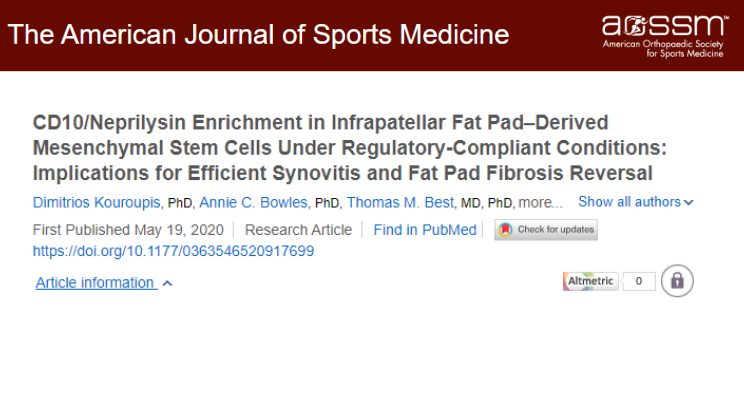 Enhanced performance of IFP-MSCs with our hPL
The study performed with human Platelet Lysate (hPL) at the University of Miami showed an enhanced performance of manufactured IFP – MSCs under regulatory compliant conditions.
The aim of the study was to proof the hypothesis: IFP-MSCs manufactured under these conditions do not need "ex-vivo priming to acquire a CD10-rich phenotype efficiently degrading SP and reversing synovitis and IFP fibrosis."
IFP: Infrapatellar Fat Pad, this pad in the knee plays a role in modulating inflammatory responses
"hPL […] can effectively replace FBS to induce specific therapeutic attributes in IFP-MSCs"
The tests of processing human IFP-MSCs were performed with FBS, our human platelet lysate (hPL) ELAREM™ Perform (former named PL Solution) and chemically reinforced medium (Ch-R).
The results showed that in comparison to FBS, hPL and Ch-R enhanced the cell performance. IFP-MSCs manufactured with hPL showed enhanced:
proliferation
differentiation
immunomodulatory profiles
transcriptionalprofiles
secretory profiles
SP degradation is more efficient with hPL
Why the SP degradation is a fundamental point in the research:
SP is a Substance which is a neurotransmitter. This neurotransmitter is secreted within structures associated with inflammations.
Why these results are important and relevant for the clinic
The manufacturing of IFP-MSCs under these conditions has an influence on the design of clinical protocols. This might lead to reviewed treating conditions involving synovitis and IFP fibrosis.
accelerated time from preclinic to clinical phases
higher efficacy at lower MSC numbers than currently needed
avoidance of cell priming for efficient results
"CD10/Neprilysin Enrichment in Infrapatellar Fat Pad–Derived Mesenchymal Stem Cells Under Regulatory-Compliant Conditions: Implications for Efficient Synovitis and Fat Pad Fibrosis Reversal" ( American Journal of Sports Medicine, May 2020)
You find the Study here
More Publications about hPL on our Website